Globally renowned third-party reliability testing laboratory PV Evolution Labs (PVEL) has published its 2023 PV Module Reliability Scorecard. The report card has once again declared Trina Solar as a Top Performer among global PV module manufacturers.
The recognition was given to the cleantech company for the outstanding performance of its Vertex N modules, especially the Vertex N 605W module. It is the ninth year in a row that Trina Solar has won this accolade, a feat unparalleled by any other company.
Using rigorous parameters, PVEL publishes the PV Module Reliability Scorecard annually, providing abundant data and research to the industry that helps guide its development, a role appreciated by all stakeholders.
All Trina Solar's testing modules, including p-type and n-type, performed exceptionally well in tests such as LID+LETID and mechanical stress sequence. Trina Solar's Vertex N 605W module, which combines i-TOPCon Advanced technology and 210mm technology, performed best in DH and PID tests. This module is highly compatible with trackers, offering optimum flexibility in utility-scale projects in the most complex of terrains and maximizing customer value with lower LCOE.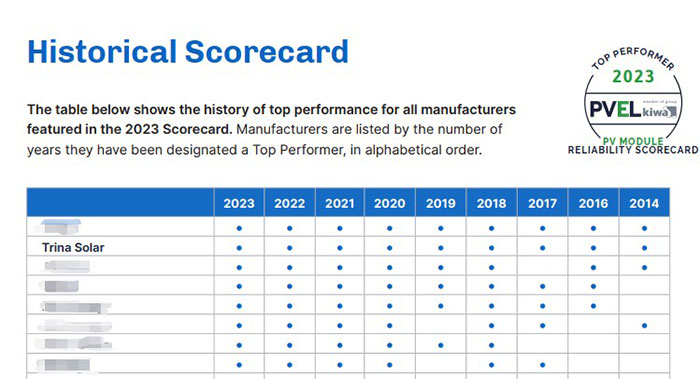 At the SNEC PV Power Expo in Shanghai in May, Kevin Gibson, managing director at PVEL, presented the Top Performer award to Trina Solar.
Kevin congratulated the company on the outstanding performance of its Vertex modules, especially the Vertex N 605W, and on its appearing on the Top Performer list for the ninth year in a row. Trina Solar was recognized as a Top Performer in almost every category in which its modules were tested.
The accolade reflects not only the quality of its modules but also the trust that customers worldwide have in them. Trina Solar has been recognized elsewhere for its excellent product performance, technological innovation and high bankability, given a 100% bankability rating for seven years in a row by BNEF, and has been rated AAA, the highest rating, in the Module Tech Bankability Ratings report by PV-Tech.