Showcases Product Line Up with New n-Type i-TOPCon Cell Technology
Trina Solar, a leading global PV and smart energy total solution provider, showcased its 2023 product line up of its latest revolutionary i-TOPCon cell technology modules with power of up to 695W+ at the World Future Energy Summit (WFES) taking place in Abu Dhabi. With a string local presence in the Middle East region, Trina has set great store for future growth from the region, with countries across the board committing to ever more ambitious renewable energy targets.
Trina Solar is exhibiting at stand number 8110 – HALL 8, alongside its partners to shed light on the company's latest cutting-edge head-turner, the Vertex N 605W for C&I and utility-scale projects. Together with the Vertex N 695W for utility scenarios and Vertex S+ 445W+ for rooftop PV systems, Trina Solar's n-type module portfolio is based on the leading 210mm product technology platform and n-type i-TOPCon cell technology.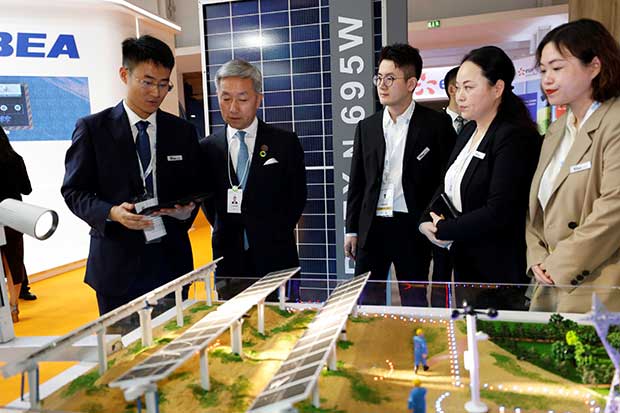 Trina Solar also exhibited a prototype of the latest utility scale ground-mounted solar solutions. The intelligent and innovated solution was comprised of the company's newly optimised
Vanguard 1P, the SuperTrack Smart Tracking Algorithm and Trina Smart Cloud Monitoring and Control system. Trina Solar manufactures, designs and deploys smart tracking systems that integrate smart tracking and monitoring solutions, while providing best-in-class services that go from project optimization consultancy to installation, commissioning, O&M and after sales services.
Antonio Jimenez, Managing Director and Vice President, Middle East & Africa, Trina Solar commented: "Trina Solar is committed to technical innovation and continues to lead the industry with n-type technology. Based on the leading 210mm technology, Trina Solar launched 210mm n-type full-scenario solutions, helping reduce BOS costs and LCOE and offering greater value to its customers both in the MEA region and worldwide. We are proud to be one of the few tier 1 manufacturers to offer n-type and p-type modules"
Against the backdrop of greater grid parity, increasing solar demand and rising market share, the latest n-type module portfolio, with power output ranging from 445W to 695W, Trina hopes that they will cement the modules as preeminent products for rooftops and utility-scale projects.
Trina Solar's 210mm n-type i-TOPCon cells rolled off production line by the end of 2022 and over 10 GW n-type modules capacity is expected to release by the first quarter of 2023.