Trina Solar, a global PV and smart energy total solution provider, has announced its successful delivery of 800 MW of 210mm Vertex modules to China Machinery Engineering Corporation (CMEC) for the Al Dhafra PV Power Plant project. The 2 GW Al Dhafra solar PV plant, located in Abu Dhabi, is set to become one of the largest single-site solar power plants worldwide. The plant has connected to grid in April of this year.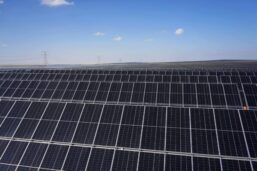 Situated approximately 35 kilometers from Abu Dhabi city, the Al Dhafra PV Power Plant boasts a remarkable capacity to generate enough electricity to power approximately 160,000 homes across the UAE, thanks to its deployment of approximately 3.5 million solar panels. Moreover, the project will play a significant role in mitigating carbon emissions, reducing approximately 2.4 million tons of carbon dioxide annually.
The Al Dhafra region, where the project is located, benefits from abundant solar irradiance and albedo. However, it is also exposed to extreme natural environmental factors, including scorching temperatures, high winds, and sand and dust. To ensure optimal performance and durability in such challenging conditions, Trina Solar conducted a meticulous assessment of the local irradiance, geography, and climate, ultimately supplying the Al Dhafra project with its 210mm Vertex modules.
Gonzalo de la Vina, President EMEA, Trina Solar stated, "We are thrilled to have successfully supplied 800 MW of our cutting-edge 210mm Vertex modules to the remarkable Al Dhafra PV Power Plant project in Abu Dhabi. This collaboration showcases Trina Solar's commitment to delivering high-power, high-efficiency, and reliable solar solutions that can thrive even in the most extreme environmental conditions. The Al Dhafra project's significant capacity and contribution to carbon reduction exemplify the transformative impact of solar energy. As a global leader in the industry, Trina Solar is proud to play a pivotal role in the realization of one of the world's largest single-site solar power plant. We remain dedicated to our mission of 'Solar Energy for All' and will continue to drive innovation, superior performance, and sustainable growth in the renewable energy sector".
Trina Solar claims its 210mm Vertex modules are characterized by four key features that unlock a low levelized cost of energy (LCOE): high power, high efficiency, high energy yield, and high reliability. Notably, these modules have demonstrated exceptional performance in extreme environments. Rigorous testing conducted by TÜV Rheinland on Trina Solar's 210mm Vertex 600W+ modules in Saudi Arabia, which shares a similar climate to the Al Dhafra region, showcased their outstanding photovoltaic conversion efficiency and their ability to maintain optimal performance even in high-temperature scenarios.879 x678;p'pol9u
Trina Solar has supplied the world with over 140 GW of solar modules, establishing its presence in more than 150 countries and regions.
Recently, Chinese solar major Trina Solar claims to have set a record of supplying more than 140 GW of solar modules since it began operations 25 years ago, gaining a presence across 150 countries in 2022. In 2022, module shipments totaled 43.09GW, placing the firm comfortably at the top tier of global solar module firms. The firm has a presence in three major business segments, PV products, PV systems, and smart energy.
Trina Solar has announced plans to invest around CNY8.7 billion (USD1.2 billion) to hike its capacity to make monocrystalline bars by building a new plant and support facilities in China's southwestern Sichuan province.